Spirit Box Radio has a new host, and he's got no idea what he's stumbled into…
Sam Enfield takes over when Madame Marie – the previous host of this broadcast for witches and enthusiasts of the arcane – disappears. As if it wasn't hard enough keeping up with calls for advice, ominous forecasts, and strange recorded messages, Sam soon discovers there are things more sinister than ghosts lurking in the Spirit Box Radio studio. As the mystery unfolds, it becomes clear that Sam was always more than a lowly PO Box Boy, and in the Enfield family, secrets run deeper than they might at first appear.
Atmospheric and engaging, Spirit Box Radio is an audio drama which will lull you into a false sense of security before pulling the rug from under your feet. If you loved the creeping sense of unease of The Magnus Archives, the weird whimsy of Welcome to Night Vale and the LGBTQ+ representation of Hello from the Hallowoods, you'll love Spirit Box Radio.
Spirit Box Radio is the winner of the Podcast Awards Best Fiction Podcast of 2021, and a finalist in the 2021 Audio Verse Awards.
Spirit Box Radio releases every Thursday at 15:00 UK Time. Listen now wherever you find your podcasts.
more spirit box radio…
Join the Faithful Listeners Forums, a discord server where the creator and cast hang out with fans of the show and talk about Spirit Box Radio, baked goods and a variety of other things!
It's a great place to find excellent fan art and cosplays of your favourite SBR characters, and meet some very lovely people!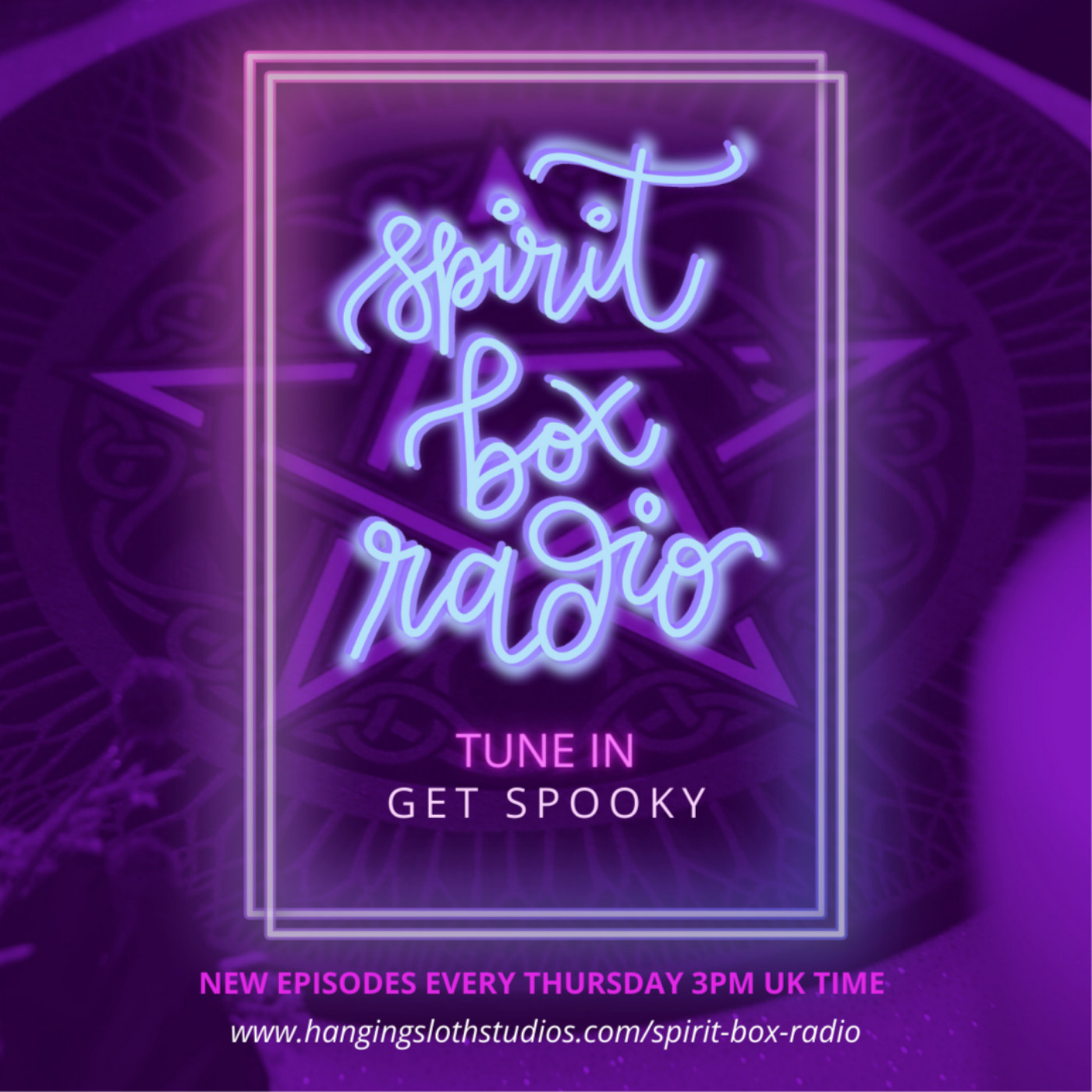 The Season Two Finale. Sam's journey into the Arcane takes him to the least likely of places, and he must face the question: what if everything he thinks he knows about himself is wrong? Transcript:
https://hangingslothstudios.com/sbr-2-38-not-yet/Support
us on patreon:
https://www.patreon.com/hangingslothstudiosSupport
us on Ko-Fi:
https://ko-fi.com/hangingslothsHang
out on discord:
https://discord.gg/FfqkjjKx7BOfficial
Hanging Sloths twitter:
https://twitter.com/hangingslothsOfficial
show twitter:
https://twitter.com/SpiritBoxRadioShop
the full SBR Merch range at TeePublic:
https://www.teepublic.com/user/hanging-sloth-studiosLimited
Merch on RedBubble:
https://www.redbubble.com/people/HangingSloths/shopContent
Warnings:Background sounds and musicStereo audio (audio will sound different in right and left speakers/headphones)StaticMentions of death and dyingEmotional distressThreats of violenceChild endangerment/neglect: mentions of and reference toComplex grieving of a neglectful parental figureNegative self-talk from a main characterManipulation, of a magical and mundane natureChoking/spluttering on waterDeath and dyingLoud sound effectsThis season starred:Jessie Jeffrey as Ekaterina Erzabet 'Kitty the Investigator' EnfieldAlex Peilober-Richardson as Anastasia Morgana 'Anna' EnfieldWill Cummings as Oliver 'the Florist' BoleynBilly Bray as ScourgeBeca Barton as Indi Tais Grimberg as Bliss Kay Watson as Ingra Ripley Leatherbarrow as 'the Bog Witch' Rhytidia DelphusDaisy Major as Regular Caller BethElinor Wood as Madame MarieRose Eke as the Mystery CallerFreya Meldrum as Show-Caller EmilyLindsay Zana as ScarcityAaron Wolfe as StrifeReba Yeo as ArloTony Cullen as BÉlisa Grothé as Maria GillespieAlex Kingsley as Jay MagnumBrandon Fields as Julius HughesSanna Javed as The Garden GhostNigel McKeon as A CultistHaruka Nami as A CultistElliot White as A CultistPippin Wood as A CultistGary Major as The Man in the Flap Cap and Shell SuitAnd me, Pippin Eira Major, as Samael Apollo Enfield, Heir Apparent to the Blood Rose Crown.This show is written, edited, and produced by me, Pippin Eira Major. Get episodes one day early with Patreon! Hosted on Acast. See acast.com/privacy for more information.